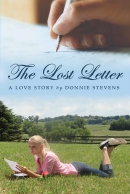 The Lost Letter
At fifty-three years of age, Trudy Quinn finds herself trying to save her twenty-four year marriage gone stale. While balancing her second career as president of a non-profit organization, she's busy preparing for her estranged husband's return from Iraq while planning an engagement announcement for their daughter. All seems to be coming together until a lost letter shows up, mailed thirty-five years ago, in 1975. After reading it, she concludes that if she'd received that letter on time, it would've changed her life. Little does she realize receiving that letter, reading the contents, and her subsequent decisions would send her on a collision course with her past that will indeed change her life.
Description
There are no valid statistics on the volume of mail lost by the US Postal Service each year. They do, however, have mail recovery centers set up in Atlanta, Saint Paul, and San Francisco to facilitate the challenge of trying to sort the millions of pieces of mail sent to them each year, called dead mail, and get it delivered to its designated recipients. A lot of lost mail is simply put in wrong boxes or people move and leave no forwarding address or incorrect addresses are given.
Often in the news we hear about unusual or untimely mail delivery. In 2010 a letter mailed 100 years ago from the maiden voyage of the Titanic was found . The letter, written by a young doctor to his mother, had been mailed from Cobh, known as Queensbury, the last port the Titanic visited before continuing its journey on the ill-fated voyage. The doctor didn't survive but his 100-year-old letter did.
Lost love letters have always intrigued me. A glimpse at someone's heartfelt letter written to a significant other, decades ago, captures my imagination and leaves me longing to know the outcome. Did the undelivered letter make a noteworthy difference? Could it have changed someone's life if it had been received?
Occasionally, we are privileged to learn how lost love letter stories unfold. A couple living in Brooklyn Center, Minnesota, recently received a letter sixty years late. It was the proposal letter sent by a US Army serviceman to his sweetheart. He had married her anyway while on military leave. In 1993, a young French girl and British boy attending school together in England sparked a romance that lasted for six years but ended when a letter was misplaced. After finding the letter 1 ten years later behind a fireplace mantle, they made contact and their reunion led to marriage.
And then there's the story of a lady I'll call Trudy, whom I met through a longtime friend in Lynchburg, Virginia. Hearing of my interest in lost letters, Trudy shared with me the letter she received in May of 2010. The envelope was postmarked August 15, 1975. After reading it, I knew there was a tale longing to be told. With her permission, this is her letter's story.