The Face Of A Hero
Monday, May 3, 2021 by Donnie Stevens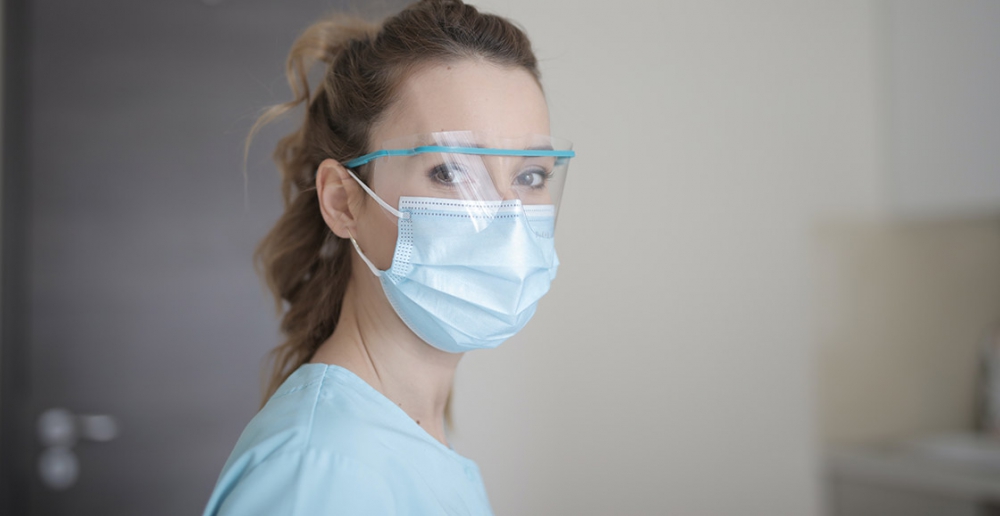 "Ring……," the alarm sounds off. Too soon. I open one eye to glance at the clock because I'm prying the other open with my fingers because it's stuck together. Maybe, because I finally slept hard, last night for the first time in weeks or maybe because of all the pent-up anxiety or emotion brewing inside, I was finally able to let it all flow out in a good cry before falling asleep. Six o'clock, I need to get moving. I throw back the covers ready to spring up, but my body unwilling, I lay still a moment longer, clutching the pillow under my head. Twenty-eight straight days of twelve to fourteen-hour shifts have taken a toll and I don't just mean my body. Long forgotten are the evening two mile walks, but what I miss most of all are my two weekly yoga classes. A coordinated body, mind, and soul workout would be welcomed now, but what I miss most is reconnecting with people and friends that care about me and my well-being. It's not going to happen for who knows how long. Enough fantasizing about how sheltered a life I lived just forty-five days ago, I make a final successful attempt to roll out of bed and move.
Once I've showered for the second time in eight hours and dressed in my Hunter green mock wrap top and cargo pants, I hurry downstairs. Absent the light makeup I usually put on. Useless now because of the face mask and plastic shield I wear all day long. Out of habit, I pick up the mail to thumb through to make sure David has pulled the bills out to pay online. The reimbursement check from Cruise One lay on top. Just weeks ago it was our island vacation away from work, the kids, and a boredom, February winter. Now what I wouldn't give to spend time with my kids, enjoy a quiet, cozy meal at one of our favorite restaurants with my husband, and mingle with friends, family, and coworkers freely again. I tap my chin. There's something I need to take care of. "Yes," breakfast.
After downing a bowl of cheerios with fruit and a hard boiled egg with a cup of roasted, caramelized, brewed coffee, out of habit I pull the bread and peanut butter from the pantry to make a sandwich for later. Then I catch myself. We aren't allowed to carry anything into the hospital other then what we wear, or it must be attached to us. So much for that. I'm sure the cafeteria will oblige my simple request of a peanut butter on whole wheat again. I check the time, it's a quarter after. I have twenty minutes before I leave. I go back upstairs to spend what precious moments I have left with my two kids.
I creep down the hallway to peep in on my eight-year-old daughter. She's sleeping soundly, so I dare not wake her. Especially, after keeping her up past ten o'clock last evening so I could spend some time with her. I quietly step inside her room and walk around her bedside and kneel so I can look at her beautiful, sleeping face. I long to caress those rosy cheeks, brush her light brown hair, or bend over and kiss her forehead. Is it safe? It brings tears to my eye. I wipe at them, then gently lift her ragdoll from the floor and place it back in her arms to cradle, and whisper a," I love you," and make myself leave her room. Across the hall, I find my ten years old son sitting up in bed playing a game on his iPad. Seeing me, he frantically shoves it under his pillow knowing he has broken house rules. I surprise him. Instead of scolding him, I sat down on a corner of his bed to chat. We talk about his school work due online today, the scheduled time I will call and face time with him and his sister later, and what he needs to do to help his father and sitter who would come later, so his father could sleep before going back out to work this evening. When my son complains, he's bored and asked how much longer we have to live like this, I'm at a loss for words. My thoughts flash back. This has been going on since end of January and now it's mid-April. I hear the garage door raise. I pull myself together and with a, "I love you," exit my son's room to spend the last remaining minutes with my husband before leaving.
We meet in the kitchen hallway to the garage. David is in his house robe since he stripped his clothes off before entering the house. I don't ask him anymore how his night went, I read his face. This morning it wasn't good. "How many?" I asked. Wrong question, bad timing. His eyes sunk in from too little sleep, his day-old shadow on his face made it look worse, at least that's what I tell myself. The twelve hours plus shifts were taking a toll on him too. His stare pleading, his gaze narrowing, and silence wrenching my insides, I reboot and take a deep breath before speaking again.
"Are you okay?" I asked.
"I'll be once this is over." He drops his chin as he walks past me to the coffee pot.
I turn. "How was last night?"
He reaches for a coffee mug. "No better. Our station got 32 calls last night. More than half breathing problems." He looks back at me. "You know what that means?"
I know he's exhausted so I ask again. "Are you going to be alright?"
He glances at me while pouring his coffee. "I will be in a couple, three, six months, or whenever this is over. How about you? Are you okay?"
I wince. "It's wearing me down too."
He leans back against the counter, takes a sip of coffee and lets go a heavy sigh before meeting my gaze. "Twelve years ago, we thought our careers made for a happy marriage. You a RN and me an EMT. I think one of us should have been a…a…," he searched for words.
"We're doing what we enjoy and chose to be. And we do have a happy marriage," I quickly interjected, "or it will be again once we get out of this crisis."
He forced a smile. "I keep telling myself not much longer. Then I listen to the news."
I look at my phone. I should be on the road. This man across the room, the love of my life needs me…and I need him. But now isn't the time to get mushy. I need to give him hope things will get better.
"Once this is over with and our lives are back to normal with the kids and all, let's take some time for just you and me."
He held up his cup as in a toast. "Fine, by me."
"No, I mean some real time. Places we want to go, things we've always wanted to do, or whatever, let's do something special every month."
He lowered his gaze, then looking up, he nodded and broke a true smile. "Yes…I can buy into that."
"Remember to have Jamie online for his schoolwork by nine. Our sitter will be here by ten so you can go to bed. And with any luck, I'll be home by seven tonight. If not, I'll let the sitter know."
He nodded. "Stay safe. I love you."
"I love you too." I turn and leave without a hug, a kiss or tap on the shoulder. Rules of engagement in war. It's been this way so long; it's gotten easy to do.
On my way through the garage, the digital thermometer lying on the work bench we both use before stepping inside the house after work catches my eye. Then I make sure his work clothes are sealed in a bag in the closed metal hamper to be disinfected and cleaned. I check my bag in the passenger car seat to make sure I have extra sets of work clothes, masks, disposal gloves, and disinfectant wipes in case I can't make it back home tonight. I back out of the garage in my Subaru, shift into drive and pull out of our driveway. A fifteen minute drive to the hospital where I will spend the next twelve hours, if I'm lucky, or physically and emotionally I can do it .I make a mistake and turned on the radio just as the national coronavirus statistics are shared. 468,895 total cases reported in the U S, 16,697 deaths, and 25,928 released, 7,067 deaths in New York alone. I quickly change to a Siri music station. "We Got The Night," by Bob Seger, one of my favorites is playing. It doesn't help. I still ponder, how many more did we lose last night at the hospital I work?
Minutes later, I park in the large parking lot near the front entrance, almost empty because no visitors are allowed. I place my hairnet on, my gloves, then carefully fit a mask on my chin and face. I think about those I stood with at bedside yesterday on ventilators. Will I find them gone this morning? And whose mother, father, son, or daughter will I attempt to give comfort to today or hold a phone near them so a love one can speak to them or …, I swallow hard…, to tell them, "goodbye." What will today bring? Will there be cheers in the hallway for those who have beat this dreaded disease and are well enough to go home? Or will I witness another slew of code blues sending everyone into a panic. It never gets easy. I'll have to save my emotions for later tonight when I'm alone in bed to cry for the ones who didn't make it.
Nothing to carry in, I step out of my Subaru and start walking the few hundred feet toward the front entrance, my mind racing but trying not to think the worse. Last evening when I left, we only had eleven beds available for new patients. I'm sure they're full now. After that, they would be sent to a nearby, makeshift hospital set up by the Army Corps of Engineers and FEMA.
A silent prayer, I psyche myself up, and leave the safety of my car. Before entering and leaving my work shift today, my temperature would be monitored. Any elevation then I would immediately be tested for Covid19. If positive, I would be quarantined to a one room apartment away from my children, husband, and coworkers for 14 days or longer if deemed necessary. Who will be the next nurse, doctor, intern, or staff member to test positive at our hospital like many before us? Could it be me? I block it out of mind. I've got a job to do.
As I approach the front entrance, a dozen or more doctors, nurses, and interns-both women and men, dressed in blue or green uniforms, face mask, and gear follow the same pathway to the front entrance. They too are giving up the safety of their home to come to work in this unprecedented crisis, every day. The guard, behind his face shield and mask, glances at our name tags before opening the door. The blue-green squad of men and women pause to gaze at each other, but only our eyes meet. No one speaks, no one nods. Call it love, compassion, or hope for the human race, we know what is expected of us today. Single file, we walk through the doorway, ready for war.
---